Apple's (NASDAQ:AAPL) mobile payment app, Apple Pay, has experienced rapid uptake since its debut last fall and is outperforming eBay's PayPal in the market, 451 Research said Tuesday.
"Our latest survey shows planned use of Apple Pay has been on an upward trajectory since it became available six months ago — with the service helping to spark consumer demand for mobile payment technologies," Andy Golub, 451 survey research director, said in a statement. "Although consumer perceptions of security remain an issue, the results point to marked improvements in this area."
One-quarter (25%) of smartphone owners say they are likely to use mobile payment apps over the next 90 days (11% very likely and 14% somewhat likely), the research firm's March survey of North American consumers found. The percentage of consumers likely to use a mobile payment app in the next quarter is up 1 percentage point from a December survey and 6 points from a year ago.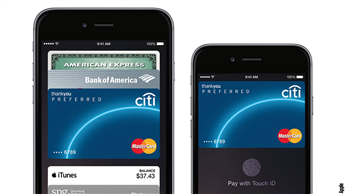 Apple iPhone owners are more than twice as likely to use mobile payment apps (34%) as people with Google (NASDAQ:GOOGL) Android smartphones (16%), 451 Research said.
Apple Pay is the top mobile payment application consumers plan on using. Among people planning to use mobile payment apps, 45% selected Apple Pay, up from 40% in December.
EBay's (NASDAQ:EBAY) PayPal is second with 28% of mobile payment users, down from 32% in December. Google Wallet is a distant third with 13%, up from 11% in December.
"In the wake of Apple's entrance, Google and PayPal have made significant acquisitions, while players such as Facebook (NASDAQ:FB) and Samsung are rolling out payment products to remain competitive," 451 analyst Jordan McKee said in a statement.
Another good sign for Apple Pay is its lead in customer satisfaction. Among Apple Pay users, 66% are "very satisfied" with the service. That compares with 45% for PayPal and 33% for Google Wallet, 451 Research said.
But security remains a concern.
One in four respondents (24%) say mobile payments are more secure than traditional credit cards, while 27% say they're less secure.
Apple Pay could get another boost starting Friday when Apple launches its smartwatch, the Apple Watch, in nine countries. Making retail payments with the wave of a wrist is seen as a key selling point for the wearable device.
But Apple Pay has had some glitches. A survey last month indicated that two-thirds of Apple Pay users have had problems using the payment service at checkout.